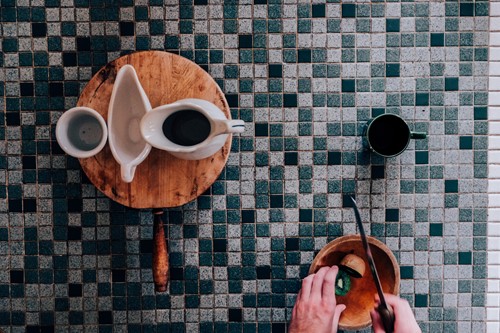 Photo by Zachary Nelson on Unsplash

When a style is hot, it's hot. You'll start seeing a particular medium, color or pattern everywhere. But once that hype fizzles, you're often faced with a countertop that seems dated and even loud. Unfortunately, replacing a counter isn't as affordable as getting a new hairstyle.
You're stuck with it for a decade or more. That is unless you use these DIY countertop alternatives to revitalize any surface and bring it into the 2020s without a 2020 new countertop price tag. Here are some easy ways to do it.
Tile Overlay
You can easily tile over laminate countertops to create a beautiful modern appeal. You only need a handful of tools:
Your tile of choice (ceramic, granite, stone, etc.)
A trowel
A sponge
Thin-set mortar
Grout
Spacers
First, clean your counters vigorously. Then plan your pattern. Lay the tiles out dry to ensure you have enough. Redos aren't easy, so don't skip this step. Take a picture if needed so you can replicate the pattern.
Work in small sections so the mortar doesn't dry while you're working. With your trowel, slather the mortar onto the surface. Then begin laying tiles, placing spacers between them to keep them aligned. Press the tile down firmly with a slight twist to help it find its place in the mortar.
Once you've laid all tiles, let them cure for 24 hours. Then add grout and let sit for another 24. After that, sponge off the tops of your tiles.
If your grout or mortar comes with different drying times, use those instead of the ones listed. And if you ever feel that a project is more than you can handle, call a professional.
Countertop Cover System
There are several DIY countertop refinishing products on the market. Explore your options before choosing one. Generally, you'll sand your countertop and then "paint" a durable coating onto the counters. This coating may look like faux granite, charcoal, a quartz-flecked surface or even glass.
Whether you're redoing the counters in the bathroom or kitchen, a cover system updates your look and may make your surface more durable too.
All you usually need for this project is what comes in these kits. Follow the instructions on the box to get the best results.
Rejuvenate Laminate Countertops
Maybe you love your countertops and want to keep them. But over time, they've developed chips, burns, scratches or gouges. Laminate repair paste can fix these things, making older countertops look new.
Wash the surface. Apply the paste. Then smooth it evenly across the surface, working your way out so you don't end up with apparent lines between paste and original countertop. Let it dry. Then buff and polish until it shines.
For more tips and tricks to revitalize your home on a budget, follow our blog.