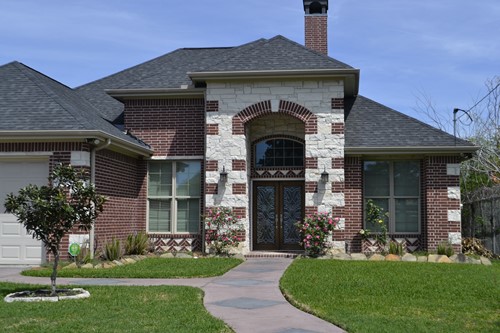 Both brick and natural stone have been popular building materials throughout history and are still popular today. Both have a classic, traditional look and offer many benefits compared to other home siding materials. If you're considering going with brick or stone for your home exterior there are several things to consider.
Brick Advantages & Disadvantages
Natural brick has a timeless look and some great structural benefits. It's durable, long-lasting and resistant to extreme elements and weather. Brick is a great insulator which will keep your home warm in the winter and cool in the summer while conserving energy. Bricks come in standard sizes which make them extremely versatile and flexible whether you want an entire wall or merely brick exterior accents.
The major disadvantage to natural brick is the cost. Despite being made of abundant natural materials (clay and shale) it's one of the most expensive home siding options. The high price tag is mostly because of the installation process. Besides being very heavy to transport, brick siding requires a specialized building process. Also, despite its durability and longevity, it will eventually need some maintenance. Mortar, the material used to bond individual bricks together, wears down over time and will need to be touched up.
Stone Advantages & Disadvantages
Stone shares many of the same advantages as natural brick. Stone siding is timeless and versatile, available in a variety of colors, textures and finishes. You have a wide range of choices for stone siding depending on the style you want your home to have. You can cut stone into custom shapes that will last a lifetime. Similar to brick, natural stone is fire resistant and can withstand strong weather. Stone siding can help insulate your home and keep cool air inside in hot climates.
Natural stone is another high-cost siding option. There are many types of stone you can use as siding, but all of them are limited natural resources that are not available in the same abundance everywhere in the country. This means both the material itself and the transportation costs can be high before it's even installed. It also means that the environmental cost is higher overall. Stone has excellent natural cooling ability and will help you keep your home comfortable in hot climates. However, this also means you might need additional insulation for harsh winters.
Alternatives to Consider
There are some great alternatives to natural brick and stone if you still want a similar look with a lower price tag. Faux brick, often called brick veneer, is far easier and less expensive to add to your home. It is almost indistinguishable from real brick and can even be installed yourself over a single weekend. Stone veneer is also widely available and similarly customizable. The textures and finishes are extremely believable and becoming even better over time as technology improves. Like brick veneer, stone veneer doesn't require mortar or hiring professional masons. Though the faux versions don't share the same long-term durability and insulation characteristics as natural brick and stone, these modern materials are an excellent option if your goal is mainly aesthetic. You can easily and inexpensively add brick or stone accents to existing walls to create a new but timeless looking design.