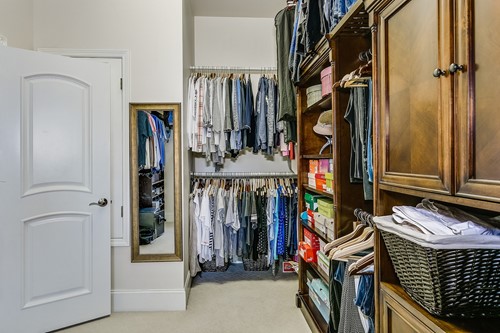 The effort to contain and reduce clutter often begins with the closet. No matter how mindful we are, old clothing items accumulate over time and take up space. A disorganized or overly full closet can seem overwhelming. Luckily, there are some simple things you can do to reduce your closet clutter. Here are some of the best ways to start:
Tools to Help You Declutter Your Closet
Before getting started, there are a few things that can make the process easier. Those items include:
Multiple bags or baskets for convenient sorting - You can label them sell, trash, donate, storage or any other category that fits your situation.

A notepad or smartphone app - Have something with you that can jot down notes or make lists. You can also use this opportunity to pinpoint what you might miss from your wardrobe.
Both things will help you stay organized in your process and your end goal.
Decluttering Strategies
Take Everything Out First - Removing everything from the closet might seem like a chaotic first step, but having everything out in the open will help you visualize the space you actually have. It will also help you organize your clothing and other items in terms of categories.
Start by sorting anything that you know you want to get rid of out into the designated container. Then, add items back into the closet one by one. Think about your choice and only put something back if you know for sure you want to keep it. Slowly adding items back in is an easier way to organize a messy closet than to pull items out individually.
Think in Seasons - Depending on where you live, you might have what seem like multiple wardrobes based on the weather. This can lead to the very common issue of creating clutter with items you know you want to keep, but don't need right now. After all, why take up so much space in the closet with thick puffy sweaters in the middle of a hot summer?
The best way to handle this situation is to sort your clothing by season. Start with the extremes first—hot and cold—and then fill in the middle. Knowing what you have in each pile will help you determine what you can stow in deeper storage, like in the attic or basement. Once winter comes, simply swap out the summer clothes for the cold weather clothes and you'll avoid a year-long overfull closet.
Donate Immediately - If you plan to donate clothing or other items, do so as soon as possible. Even when sorted into bags or bins labeled "to donate," these items are still taking up precious space in your home. Avoid the trap of leaving them in the back of your car, too.
Drop your donations off at your nearest donation site or schedule a pickup immediately so that the items are completely gone. This way you are truly removing the clutter rather than just putting it somewhere else.
There are many in-depth guides for cleaning out your closet, but these are some more general strategies you can use no matter what your situation is. If you follow these ideas, you'll find that what seemed like an overwhelming ordeal was just another simple chore put off for too long.